Level 316
is a
cheesy plate
level. To pass it, you must collect 6 cheesy plates in 28
moves
or fewer (in average, you must collect 0.2 cheesy plates each turn). When you complete the level, you will get the message "Objective Completed" and if you have extra moves, the equivalent number of random tiles will become
line blasters
that will be automatically activated.
Difficulty
Edit
Any player this level should have little trouble defeating it as it is only slightly difficult and there are sufficient moves to win.
Strategy
Edit
Clear mousetraps, codex and exclamators while making blasters or cracking rocks by playing adjacent to the rocks.
If you are winning early the magnets can probably be ignored, or will be removed by blasting in any case.
As the blockers are removed use blasters and rock breaking to clear plates in order, top down
If you can create a horizontal or double-diagonal blaster in the right place it is possible to remove multiple cheesy plates in a single turn
It is quite feasible to blast some or even all of the plates in pairs.
This game can be beaten quickly, as few as 7-12 moves, if played well and lucky tile draws occur
Walk Through
Edit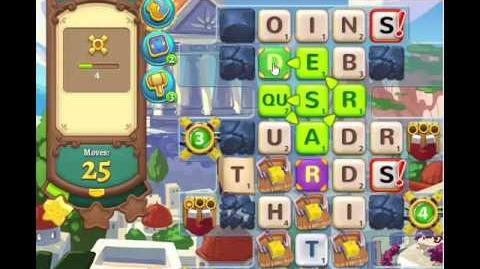 Beating Level 316 in 7 moves (see video)
#1: SQuARER -- declining SQuARES or the plural SQuARERS because the blaster needs to be in the center or up high
#2: TOT -- fumbled mouse trying to drop blaster, dropped blaster by one tile
#3: WIRY to drop the double diagonal blaster to line up on Cheesy Plates #1 & #2
#4: POUTER because we are lined up on Cheesy Plates #1 & #2
#5: SNAKED -- take the "ED" on the left to line up on Cheesy Plate #3 & #4
#6: SQuARED -- take Cheesy Plate #3 & #4
#7: RUSS?AS -- probably RUSSIAS, lined up on Cheesy Plate #5 & #6 to win, might as well take a big word
This level was released on Facebook in English on Nov 13, 2015.
Community content is available under
CC-BY-SA
unless otherwise noted.