Level 5
is a
score
level. To pass it, you must score at least 6800 points in 20
moves
or fewer (in average, you have to score 340 points each turn). When you complete the level, you will get the message "Objective Completed" and if you have extra moves, the equivalent number of random tiles will become
line blasters
that will be automatically activated.
Description
Edit
This level introduces the Shuffle booster
The shuffle booster is available for use after 6 moves, and again after 6 additional moves once it is used.
The shuffle booster allows the player to re-shuffle the letters on the board.
The board is shaped like a heart.
Strategy
Edit
Play as usually and once the shuffle booster is ready the player may shuffle the letters when no desirable move is available.
Plan your shuffles so that you use them to improve the board but try to have them available for emergency when no effective plays are shwoing.
Walkthrough
Edit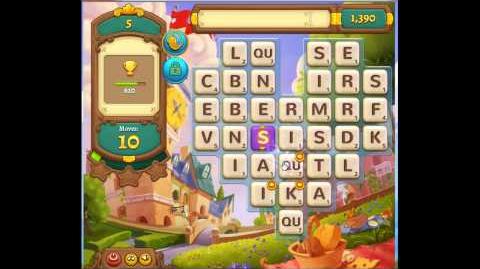 Community content is available under
CC-BY-SA
unless otherwise noted.