The Cheesamids is the 6th episode of AlphaBetty Saga.
Hardest Level :
Easiest Level :
New feature
Edit
There is a secret level that (sometimes) awards bonus boosters.
Secret level is entered from the Temple steps under Level 89 & 90
Click on 6 torches to light them, 3 on each side of steps
King icon in purple and gold with 3 Gold Cheese stars above will appear on steps, click that to enter level
Note: the torches are not lit nor does the icon appear until the player first clicks on the torches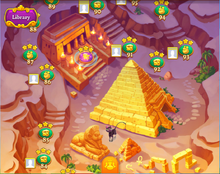 Community content is available under
CC-BY-SA
unless otherwise noted.